My Blog
Posts for: February, 2012
By Jay Jorgenson, D.D.S.
February 16, 2012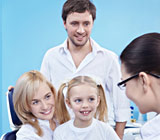 We in dentistry, advise parents to have an orthodontic evaluation some time before your child is 7 years of age. At this time, some of your child's adult teeth have come in and some primary (baby) teeth remain. This is a good time to check for developing problems. Treatment that begins while your child's teeth are coming in is called "interceptive orthodontics." It provides an opportunity to achieve the best results in orthodontic treatment.
Once this evaluation takes place, it may mean that orthodontic treatment may need to take place in two-stages. A first phase of orthodontic treatment may prevent, intercept or minimize future orthodontic treatment. The first stage may be a process of guiding the growth of the jawbones that support the teeth. This is called "growth modification." Then when the adult teeth have erupted through the gums, it may be time to do the second and final stage.
If a second phase of treatment is necessary it will probably require braces. These are small metal brackets that are bonded to the teeth. Thin flexible wires are threaded through them, and the wires are designed to push or pull on the teeth to provide a small amount of pressure that makes the teeth slowly reposition themselves within the jawbone. A light and controlled force pulling on a tooth causes new bone and ligament (the fibers that hold teeth in place) to be formed. These are living tissues that are constantly changing and remodeling themselves.
If you wait until your child's permanent (adult) teeth have all come in to start this process, it will be too late to correct some types of orthodontic problems, such as some types of malocclusions ("mal" – bad, "occlusion" – bite). It's better to work together with your child's stages of growth and development in order to have an optimum correction, both in looks and function.
You may be wondering whether a two-stage treatment costs twice as much. In fact, it is likely to be less expensive than a late one-stage treatment would be. Sometimes, the first stage may correct an underlying problem and make further treatment unnecessary. If a second phase is needed, it is likely to be easier and less costly.
Contact us today to schedule an appointment to discuss your questions about orthodontia for your child. You can also learn more by reading the Dear Doctor magazine article "Preventative & Cost Saving Orthodontics."
By Jay Jorgenson, D.D.S.
February 08, 2012
Nearly every parent and caregiver has experienced that almost instantaneous sick feeling when they see that their child has been injured, especially when it is an injury to the mouth and teeth. For some, it is just a bloody lip; however, if the accident chipped a tooth, then you may have a completely different situation on your hands. If the nerve of the tooth has not been damaged, you needn't worry too much — a composite (plastic) tooth-colored restoration that is actually bonded to the tooth is an ideal material for repairing most broken or chipped teeth. See us as soon as possible to assess the extent of injury, so that proper and appropriate action can be taken.
An additional reason why bonding with composite resin may be the ideal choice for repairing a child's chipped tooth is that it can be custom created in virtually any shade so that it perfectly matches the damaged tooth and the surrounding teeth. It is also far less expensive than a crown, an important factor to consider when repairing a primary (baby) tooth that will eventually fall out to make room for a permanent tooth. If the injury is to a permanent tooth, a composite resin still may be ideal to use as a restoration until your child or teenager has stopped growing or playing contact sports. This is because your teenager may be too young for a more permanent restoration such as a crown or porcelain veneer.
An important, proactive step you can take to be prepared for the next time your child has a dental injury is to download Dear Doctor's Field-side Pocket Guide for Dental Injuries. This handy, quick reference guide is a must have for athletes, parents, caregivers, teachers, coaches or anyone who is often in an environment where a mouth injury is likely to occur. Knowing what to do and how quickly you must respond can make the critical difference between saving and losing a tooth.