My Blog
Posts for: March, 2014
By Jay Jorgenson, D.D.S.
March 24, 2014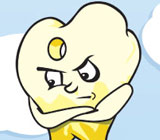 When do you think is the earliest age that tooth decay can start? Would you be surprised to learn that the answer is… just two months!
In spite of our best efforts, throughout the world tooth decay remains the most common chronic disease of childhood. And the unfortunate truth is, it's largely preventable. Tooth decay is caused by harmful bacteria living in the mouth. These bacteria produce acids as a byproduct of feeding on the sugar we consume. The acids attack the hard enamel surfaces of the teeth, eventually making the small holes we know as cavities.
For thousands of years, these bacteria have been thriving in the carbohydrate-rich environment of our mouths. Kids aren't born with these germs — often, however, they are passed directly from caregiver to child. But there are things you can do to keep from passing the bacteria to your children. For example, don't share toothbrushes; don't put items in baby's mouth after you have licked them or put them in yours; and, if you have untreated dental disease, try to avoid kissing the baby's lips. (And for goodness sake, don't pre-chew a baby's food, no matter what any celebrity may suggest.)
One effective way to control tooth decay is by reducing the amount of sugar in the diet. Sodas and candy aren't the only culprits — fruit juices are also high in sugar. And remember, it's not just what your child eats or drinks that matters, but when they consume it. Given time, saliva will neutralize and wash away the acids that bacteria produce. But if kids are constantly taking in sugar, the saliva can't keep up. So give those little teeth a break — limit sugar to mealtimes, and avoid sweet treats at other times of day.
What other steps can you take to stop tooth decay before it starts? It helps to identify kids who may be more susceptible to dental disease. Given the same diet with the same oral hygiene practices, some children are much more likely than others to develop tooth decay. If these high-risk kids wellness consultations may be advised to help with diet modification — early tooth decay can be successfully prevented, and even reversed in some cases.
If you're concerned that dental treatment may be too scary for little ones, you should know that we put a great deal of effort into making office visits as stress-free as possible. We have plenty of tricks to keep youngsters happy — and distracted — while we take care of business. You can help too… by maintaining a positive outlook and setting a good example.
If you would like more information about cavity prevention for children, please contact us or schedule an appointment. You can learn more in the Dear Doctor magazine article "Taking the Stress Out of Dentistry for Kids."
By Jay Jorgenson, D.D.S.
March 12, 2014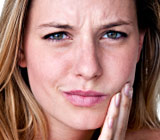 You have probably heard a lot of people talk about TMJ disorders, but do you know what it all means? How do you know if you are suffering from a TMJ disorder?
Below are answers to some common questions about TMJ disorders.
What is a TMJ disorder?
First, we should explain that TMJ actually refers to the Temporomandibular Joint, which is the formal name for your jaw joint(s). TMD stands for Temporomandibular Disorders, which is the correct name for the muscle and/or joint symptoms that commonly arise when there is TMJ pain and dysfunction. You may have heard people refer to the actual disorder as TMJ, but this name is incorrect.
When I experience TMJ pain, what exactly is happening?
Let's first understand all of the parts that play a role in your pain. The temporomandibular joints connect your mandible (lower jaw) to your skull on both the left and right sides, which makes the lower jaw the only bone in the body with completely symmetrical joints at both ends. There is a ball-and-socket relationship between your jaw and your skull on both sides, but the unique part is the presence of a cushioning disk between the two surfaces in each joint. Each TMJ has a disk between the ball (condyle) and socket (fossa), and this sometimes ends up being an especially important area when trouble arises.
So, how do I know if I have TMD?
You can never be absolutely sure, but here are some symptoms you should be sure to share with us during your examination:
Clicking. You may experience a clicking sound in the jaw, usually due to a shift in the position of the disk inside the joint. However, if you do not have pain or limited jaw function, this symptom may be insignificant.
Muscle Pain. The next symptom is jaw muscle pain, usually in the cheeks or temples. If the muscle is sore or stiff in the morning, this pain is usually related to clenching or grinding in your sleep. However, there are more complex muscle pains that can spread to your head and neck.
TMJ Pain. This third symptom refers to pain actually inside one or both of your jaw joints, technically described as arthritis of the TMJ.
If diagnosed, what can I expect from treatment?
We will first need to assess the damage to your TMJ, and from there we will recommend a course of treatment to relieve your pain. Treatment may range from hot or cold compresses and anti-inflammatory medications to physical therapy or a bite guard. We may also advise you to do jaw exercises at home. In general, we will do our best to treat your issue without orthodontic treatment or surgery.
If you would like more information about TMD, please contact us or schedule an appointment for a consultation. You can also learn more by reading the Dear Doctor magazine article "Seeking Relief from TMD."