My Blog
Posts for: May, 2014
By Jay Jorgenson, D.D.S.
May 30, 2014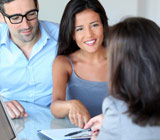 Advancements in dentistry have created an abundant source of treatments for restoring health and vitality to diseased teeth and gums. Unfortunately, not all of these treatment options may be in your financial reach. Fortunately, there are some affordable restorative options, as well as cost-effective treatments that could buy you time until you can afford a more permanent solution.
Your first step is a dental examination to evaluate your current oral health and possible future treatment needs. If you're not already showing symptoms of tooth decay or gum disease, we would evaluate your probable risk for future disease development. Risk assessment enables us to recommend a prevention strategy that is relatively inexpensive and may save you on more expensive dental procedures in the future.
If the examination reveals some current problems, it may be necessary to prioritize. Painful or abscessed teeth are a dental emergency and should be treated as soon as possible. Other conditions, like mild gum disease would be next in line; however, a word of warning: the longer you postpone treatment for many of these conditions, the greater the likelihood of subsequent bone and tooth loss, which will lead to more extensive — and expensive — treatment.
There are also new alternatives to traditional treatments that are less costly but still have many of the benefits. For example, less-costly glass — or resin-based fillers are becoming a popular option for restoring decayed or damaged teeth. Though not quite as durable as more expensive options, these new materials are life-like in appearance and work well on repair sites on non-biting surfaces.
You should also look to one other resource for managing the costs of dental care — us, your dental team. While we want your teeth and gums to be as healthy as possible, we also understand "wallet" issues. We can work with you on financial matters to ensure you're getting the effective care you need, including payment plans for more expensive treatment processes, working with your dental insurance plan, and recommending affordable treatment options.
The key is to develop a long-term care plan targeted to your individual dental needs. Knowing where we need to go — and adapting treatment strategies that match your resources — will help you get the best dental care you can afford.
If you would like more information on dental care treatment options, please contact us or schedule an appointment for a consultation. You can also learn more about this topic by reading the Dear Doctor magazine article "Cost-Saving Treatment Alternatives."
By Jay Jorgenson, D.D.S.
May 22, 2014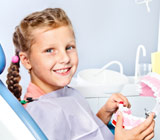 Next to brushing and flossing, a regular dental checkup is the single most important thing you can do for a healthy mouth. It's also one of the best lifetime habits you can instill in your child, a task that's a lot easier if your child sees visiting the dentist as a normal, even enjoyable part of life. Here are some things you can do to help make that happen.
First, if you're not in the habit of taking your child for regular dental checkups, the sooner you start the better. We recommend you schedule your child's first checkup around their first birthday. This will help your child become better accustomed to visiting the dentist, and get both of you on the right track with proper hygiene techniques. And by identifying and treating dental problems early, you may be able to avoid more stress-prone treatments in the future.
Who you see is just as important as making the visit. It's important to find a practice that strives to create a comfortable, home-like atmosphere for their patients, especially children. Pediatric dentists (and many general dentists) are trained in child behavior and understand the importance of relating to a child first (pleasant chatting and upbeat explanations of what they're going to do) to put them at ease before beginning examination or treatment.
Perhaps the most important factor in getting your child accustomed to dental care is you — your attitude toward not only visiting the dentist, but caring for your own teeth. Children tend to follow the lead of their parents: if you have developed healthy habits regarding oral hygiene and a nutritious, "tooth-friendly" diet, your children are more likely to follow suit. As for dental visits, if you're calm and pleasant in the dentist's office, your child will then see there's nothing for them to be nervous about.
Going to the dentist at any age shouldn't be an ordeal. Following these steps will go a long way in making dental visits something your child looks forward to.
If you would like more information on dental treatment for children, please contact us or schedule an appointment for a consultation. You can also learn more about this topic by reading the Dear Doctor magazine article "Taking the Stress Out of Dentistry for Kids."