My Blog
Posts for: February, 2015
By Jay Jorgenson, D.D.S.
February 27, 2015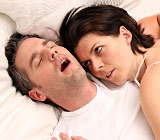 A good night's sleep...have you been getting them lately? While everyone knows that sleep is important, did you know that we all spend about one-third of our lives asleep? And did you know that when deprived of sleep, the negative impact is detrimental on both an individual as well as at the societal level? These important facts are just some of the reasons why there has been an increased interest in studying sleep, sleep loss and sleep disorders.
If you have issues with sleep, you might have a sleep disorder — an epidemic problem that impacts approximately 50 to 70 million people in the US alone. Obstructive Sleep Apnea ("a" – without; "pnea" – breath) (OSA) is a medical condition that occurs when your tongue collapses against the back of your throat causing a significant reduction in your intake of air or even total temporary blockage. If left untreated, OSA can lead to an irregular heartbeat, heart attacks, high blood pressure, and other forms of heart disease plus strokes and even impotence.
Please note that while your responses to the questions below do not equate to a diagnosis, sharing them with our office can be extremely beneficial in helping us properly evaluate and treat issues related to poor sleeping habits.
Do you weigh 15 pounds or more than the normal weight range for your height, sex and age?
If you are male, is your neck measurement 17 inches or more? Or if you are female, is it 16 inches or more?
Do sleep partners routinely tell you that you are a loud snorer and/or that during your sleep you choke, gasp for air or briefly stop breathing?
Do you often wake up still feeling tired after 8 or more hours of sleep?
Do you often find yourself falling asleep at work or home during periods when you should be awake?
Do you suffer from irritability, depression, loss of memory, poor judgment and/or concentration?
The first and most important step in treating sleep apnea is to obtain a proper diagnosis. Contact us today to schedule an appointment to discuss your questions about sleep apnea. We can assist in the diagnosis and treatment of sleeping disorder along with a physician trained in this area. And rest assured that we have many treatment options we can use to help you get a great night's sleep. To learn more about sleep apnea, continue reading the Dear Doctor magazine article "If You Snore, You Must Read More!"
By Jay Jorgenson, D.D.S.
February 19, 2015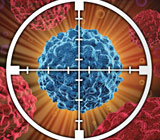 Oral cancer is a serious health problem, responsible for the death of about one person every hour, every day in the United States. It was once thought that folks over 40 were chiefly at risk for the disease. If present trends continue, however, younger people may soon form the majority of oral cancer patients. So, no matter who you are, it makes sense to recognize the risk factors, and find out what you can do to reduce your chances of getting the disease.
As in many other diseases, genetic factors play a role in determining whether an individual will develop oral cancer. At present, there's nothing we can do about these inborn traits. But there are several choices we can make that will lessen our risk of oral cancer. Most of these risky behaviors are associated with other types of cancer as well.
Moderate to heavy drinkers, and users of tobacco products of all types, are as much as 9 times more likely to develop the disease than non-users. Chronic exposure to the sun has long been associated with the development of cancers of the lip. And, because the sexually-transmitted Human Papilloma Virus (HPV) can lead to oral cancer, unsafe sexual behavior is a factor that's fast becoming a primary cause of the disease.
So if you need another reason to quit smoking, stop drinking excessively, wear sunscreen and practice safe sex — consider this your warning. But there's still more you can do to reduce your risk for oral cancer, and improve your general health as well.
Eating a plant-based, whole food diet doesn't just reduce your risk of getting oral cancer — it also makes you less likely to develop many other cancers, and various chronic conditions like heart disease. The exact mechanisms by which this happens aren't completely understood, but its effects have been documented in numerous studies.
Avoiding certain chemicals, like the nitrites often found in preserved foods, can reduce cancer risk. And the antioxidants you get by eating a balanced diet rich in fruits and vegetables can help protect your body from cancer-causing substances.
Finally, don't ignore regular cancer screenings. The early signs of oral cancer are difficult for many people to distinguish from common mouth sores — but we are trained to identify possible problem areas, and can schedule further tests if needed. You can get an oral cancer screening (a fast and painless procedure) at your regular dental checkup. And you always get your checkups on time — don't you?
If you have concerns about oral cancer, please contact us or schedule an appointment for a consultation. You can learn more in the Dear Doctor magazine articles "Oral Cancer" and "Diet and Prevention of Oral Cancer."