My Blog
Posts for: April, 2018
By Jay Jorgenson, D.D.S.
April 12, 2018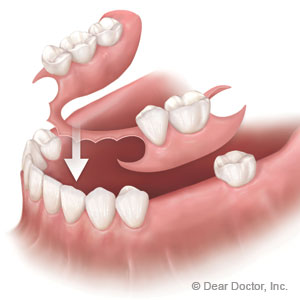 Dentures in one form or another have been around for centuries. Although dental implants have earned a well-deserved prominence of late, the denture still remains a viable tooth replacement option.
What's more, dentures aren't reserved for total tooth loss only. Even if you've lost just a few of your teeth, we can fit you with a removable partial denture (RPD). Although mainly considered a temporary solution for missing teeth, some people depend on an RPD for many years due to finances or other issues.
The traditional RPD consists of a rigid acrylic plastic base that resembles gum tissue supported by a metal framework, with prosthetic (false) teeth precisely placed to fill the space of the missing teeth. They're held in place with metal clasps that extend from the metal framework to fit over the remaining natural teeth.
Although they're an effective restoration, traditional RPDs have a few drawbacks. Some people find them uncomfortable to wear or have an allergy to the acrylic plastic. They also have a propensity to stain from beverages like tea, coffee or wine.
But there's a more recent version called a flexible RPD that addresses these and other concerns. It's made of a pliable nylon that's durable, yet comfortable to wear. Rather than metal clasps, they're secured in place with thin, finger-like nylon extensions that fit into the small, natural depressions in the crowns of the teeth around the gum line.
Flexible RPDs are also highly adaptable to appear life-like in many situations. We can fashion the nylon base to cover areas around natural teeth where the gums may have receded due to gum disease.
They do, however, have a few downsides. Unlike traditional dentures, they're difficult to reline or repair. Like any oral appliance, they can suffer from wear and neglect, so you must properly clean and maintain them. And, like any RPD their best role is as a temporary bridge rather than a permanent restoration.
In the meantime, though, you can count on a flexible RPD to restore your ability to eat and speak proficiently, as well as smile with confidence. It's a great affordable way to address a few missing teeth.
If you would like more information on dentures as a restoration option, please contact us or schedule an appointment for a consultation. You can also learn more about this topic by reading the Dear Doctor magazine article "Flexible Partial Dentures."
By Jay Jorgenson, D.D.S.
April 04, 2018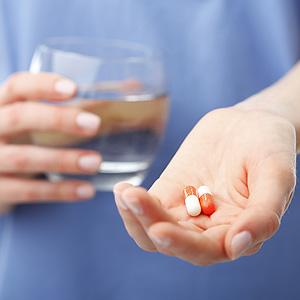 If you're considering dental implants to replace one or more missing teeth, you'll need to undergo a minor to moderate surgical procedure (depending on the number of implants) to install them. Depending on your current health status and medical history, you may need antibiotics before or after the procedure to help ensure a successful outcome.
Although implants have a high success rate (over 95%), they can still fail — and bacterial infection is a major culprit. Installing implants requires surgically accessing the bone through the gum tissues; you may also need other invasive procedures like tooth extraction or bone or gum tissue grafting. These disruptions to the soft tissues can introduce bacteria into the bloodstream.
In certain individuals, this can increase infection risk not only around the implant but also in other parts of the body. You may be at higher risk, for example, if you have serious health problems like cardiovascular disease or diabetes, a weakened immune system, you use tobacco or you're over or under normal weight. The American Dental and American Heart Associations both recommend antibiotics before dental implant surgery as a preventive measure against infection if you have a prosthetic heart valve, a history of infective endocarditis, a heart transplant or some congenital heart conditions.
For other patients with low to moderate risk for infection, there's vigorous debate on administering antibiotics before implant surgery. There are some side effects to antibiotic use, ranging from diarrhea to allergic reactions, and an increased concern in general to the developing resistance of many infectious agents due to the prevalent use of antibiotics. Many dentists and physicians are becoming more discriminate in the patients for which they prescribe antibiotics before surgical procedures.
It really comes down, then, to your particular case: not only the specific procedures you need but also your general health. After weighing these factors against the possible benefits for protecting your health and improving your odds of a successful outcome, we'll recommend whether antibiotic treatment for implants is right for you.
If you would like more information on the role of antibiotics in dental procedures, please contact us or schedule an appointment for a consultation.