My Blog
Posts for tag: inflammation
By Jay Jorgenson, D.D.S.
June 02, 2014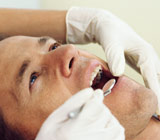 Research has shown that periodontal (gum) disease can affect the health of your whole body. Evidence suggests a relationship between severe gum disease and cardiovascular disease ("cardio" – heart; "vascular" – blood vessel), conditions that lead to heart attacks and strokes. There is also a relationship between gum disease and pregnancy; mothers with severe gum disease have a higher incidence of pre-term delivery and low birth-weight babies. To understand gum disease, you may find the following facts helpful. How many are you aware of?
Periodontal disease — Any disease that affects the areas around the teeth. The word comes from the Latin "peri" meaning around and Greek "odont" meaning tooth. Periodontal disease, or gum disease as it is commonly called, is really a group of diseases with the same outcome: destruction of the periodontal tissues, loss of supporting bone and ultimately the loss of your teeth.
Dental plaque (Biofilms) — A bacterial film that forms on teeth at the gum line, and the reason we brush and floss. Its daily removal is necessary to keep your teeth and gums healthy. A biofilm is a biological film comprised of colonies of living organisms that are generally specific to a particular eco-system. Plaque is one type of biofilm.
Gingivitis ("gingiva" – gum; "itis" – inflammation) — A response of the gum tissues to plaque biofilm that is left undisturbed (due to ineffective, or inadequate oral hygiene). It is the first stage of periodontal disease.
Pocket formation — Just like a pocket on your clothing, pocket formation is the result of separation of the gum tissues from their normally healthy tight attachment to a tooth. Pocketing allows the introduction of bacteria, which perpetuate gum disease.
Abscess — A collection of pus that forms within diseased periodontal tissues. It is experienced as pain, swelling, and discharge of pus from the gum tissues and is an advanced sign of periodontal disease.
Important Tip — Bleeding Gums when brushing teeth or flossing is not normal. It is a warning sign of early gum disease that you should bring to the attention of our office.
Contact us today to schedule an appointment to discuss your questions about periodontal disease. You can also learn more by reading the Dear Doctor magazine article "Understanding Gum (Periodontal) Disease."
By Jay Jorgenson, D.D.S.
October 03, 2013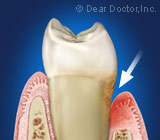 If your gums appear reddish, puffy and bleed easily — especially at the margins where they meet your teeth — instead of their normal pink, you have gingivitis ("gingiva" – gums; "itis" – inflammation). Gingivitis is one of the first signs of periodontal disease ("peri" – around; "odont" – tooth) that affects the tissues that attach to the teeth, the gums, periodontal ligament and bone. Other common symptoms of periodontal disease include bad breath and taste.
If periodontal (gum) disease is allowed to progress, one possible consequence is gum recession exposing the root surfaces of the teeth. This can cause sensitivity to temperature and touch. Another sign is that the gum tissues may start to separate from your teeth, causing pocket formation; this is detectable by your dentist or hygienist. As pocket formation progresses the bone supporting the teeth is destroyed leading to loose teeth and/or gum abscesses. Unchecked or untreated it leads to tooth loss.
Inflammation, a primary response to infection is actually your immune (resistance) system's way of mounting a defense against dental plaque, the film of bacteria that concentrates between your teeth and gums every day. If the bacteria are not removed, the inflammation and infection become chronic, which literally means, "frustrated healing." Smoking is a risk factor for periodontal disease. Smokers collect plaque more quickly and have drier mouths, therefore, cutting down or quitting smoking can reduce the severity of gum disease. Stress has also been shown to affect the immune (resistance) system, so stress reduction practices can help here as well as in other parts of your life. Gum disease can also affect your general health especially if you have diabetes, cardiovascular or other systemic (general) diseases of an inflammatory nature.
Periodontal disease is easily preventable. The best way to stop the process is to remove each day's buildup of plaque by properly brushing and flossing your teeth. Effective daily dental hygiene has been demonstrated to be effective in stopping gingivitis. It sounds simple, but although most people think they're doing a good job, they may not be. Effective brushing and flossing requires demonstration and training. Come and see us for an evaluation of how well you're doing. Regular checkups and cleanings with our office are necessary to help prevent gingivitis and periodontal disease. In addition if you already have periodontal disease you may need a deep cleaning known as root planing or debridement to remove deposits of calcified plaque called calculus or tartar, along with bacterial toxins that have become ingrained into the root surfaces of your teeth.
Gum disease is often known as a silent disease because it doesn't hurt, so see our office for a periodontal exam today.
Contact us today to schedule an appointment or to discuss your questions about gingivitis and periodontal disease. You can also learn more by reading the Dear Doctor magazine article "Understanding Gum (Periodontal) Disease."