My Blog
Posts for tag: x-rays
By Jay Jorgenson, D.D.S.
February 24, 2014
Your dental care would be much more limited without our ability to see "below the surface" with x-ray imaging. But since x-rays passing through the body are a form of radiation, could your exposure from them be hazardous to your health?
It depends on exposure dosages and, of course, the amount you have been exposed to over your lifetime. But, decades of research have demonstrated that exposure to dental x-rays during your regular office visits are only a fraction of the radiation you normally encounter from the natural environment every year.
X-rays have the ability to pass through body tissues, but at different rates for soft tissue like skin and muscle and hard tissue like bone. This effect creates shadows on exposed film; the differentiation is in such detail that a trained technician can interpret not only internal structures, but defects such as fractured bone or, in the case of dentistry, signs of tooth decay and bone loss from gum disease.
But like other energy sources in our environment, x-rays do emit radiation that in high doses can be dangerous to living tissue. The amount of exposure is measured in millisieverts (mSv), a unit that allows for comparison of doses from different sources of radiation. Scientists have calculated that we're normally exposed to between 2 and 4.5 mSv every year.
By contrast, a single digital periapical image taken of a tooth is equal to 1 microsievert (μSv), or one thousandth of an mSv; a full mouth series (between 18 and 20 images) creates an exposure of 85 μSv, or 85/1000 of one mSv. In addition, advances in technology have further reduced the radiation exposure from x-ray imaging. For example, digital imaging has reduced exposure during full mouth x-rays from seven to ten days of equal exposure from normal background radiation to half a day, and with no loss in image quality.
In effect, dental x-rays pose little to no risk for patients. Still, understanding that x-ray imaging does expose patients to radiation, dentists follow certain protocols and safety precautions. For example, dentists will place a lead apron around their patients' chest area during an x-ray exposure.
As your dentist, we're happy to address any concerns you may have about x-ray radiation exposure. But rest assured, the x-ray devices used in your dental care, so necessary in the fight against tooth decay and other diseases, are safe and reliable.
If you would like more information on the use of x-ray technology and safety, please contact us or schedule an appointment for a consultation. You can also learn more about this topic by reading the Dear Doctor magazine article "X-Ray Frequency and Safety."
By Jay Jorgenson, D.D.S.
January 31, 2012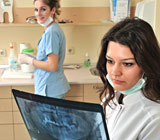 Because our main goal is to help you maintain optimal oral health, we use the latest proven technologies, techniques, and treatments to ensure we achieve them. One tool, radiographs or x-ray pictures, has been around for a long time with an inordinate amount of scientific research backing up both its safety and value. Here's a brief summary of why.
X-rays are a form of electromagnetic radiation just like natural daylight, except that they can easily penetrate soft bodily tissues, such as skin and muscles, without causing any harm if used properly. And as you may have guessed, we use them to examine what we can't see with the naked eye. For example, they enable us to see inside tooth structure, bones, and joints of the jaws. This ability makes x-rays a critical tool that we rely upon to monitor your oral health.
How often you need x-rays really depends upon your individual health needs and often is different from family member to family member given their age and oral health. During adolescence, we may need to take x-rays more often, so we can closely monitor the development of the teeth and jaw to check for normal growth and abnormalities, which can be corrected with early diagnosis. We may also need to use x-rays to diagnose trauma if you or any family member has experienced injury or disease. This will enable us to ensure the correct treatment is given and, in fact, is working and that there are no other related concerns.
Today's ultra-sensitive technology uses extremely low dosage x-rays and ensures early diagnosis and monitoring of your oral and dental health in safety and with confidence.
Learn more about the safety of x-rays by reading the Dear Doctor magazine article "X-ray Frequency And Safety." If you need to schedule an appointment, contact us today.